and how we can find them quickly -
save lives and spare the families of the missing so much pain
An estimated 800 to 1000 minority men, women and children are reported missing EVERY DAY
Would using Satellite picture taking and transmitting technology
AND/OR our unmanned Drone Surveillance capabilities
help find these missing persons and reduce other crimes ?
We know it would
and the cost would be negligible compared to the results
See the Petition linked below on this page
It the least you can do - IF you really want to help
If that technology had been in place -
the three young women found in Cleveland would have been found almost immediately
after they were reported missing over a decade ago
The story of Amanda Berry, Michelle Knight
and Gina De Jesus ( whose missing person profiles have been posted on my pages page since I was emailed about the cases in 2009 )
was given tons of exposure NOW after they were found -- Alive
But the story is Old News now
and even Nancy Grace moves on and never mentions many past
stories she PROMISED to "not stop investigating until " I " ( Nancy ) get some answers"
HOW MANY MILLIONS WERE SPENT ON JUST the three Cleveland girls over those 10 years ???
99% of that taxpayer money could have been saved
and the families of the girls/women would have been spared
the pain they endured over the last 10 years - IF -----
******
Had the systems been in place over the Boston Marathon
the Bombers would have been in custody within Minutes of them being seen in the crowd
Thereby saving the life of Sean Collier the M.I.T. Policeman killed by them
and it would have saved the millions of tax dollars spent to find them
and the Hundreds of millions of dollars lost by businesses in this event --- IF ----
Who wants to help find Missing Minority Women Children or Men ?
It seems the TV shows who cover these crimes Pay little attention to minority, low income, inner city missing cases and
The police just do cursory investigations
It seen as though income and race dictate how much response
a missing person will get from Law Enforcement and the Media -
You can NOT dispute that
****
The amazing Cleveland story received major exposure when the three women were miraculously found alive
Where have the police and media been since those women / girls went missing 10 years ago ?
The police will say - We had no good leads and
We received inaccurate tips
The media will just put a spin on their participation to make it seem like they did
much more than they actually did
We offer THE solution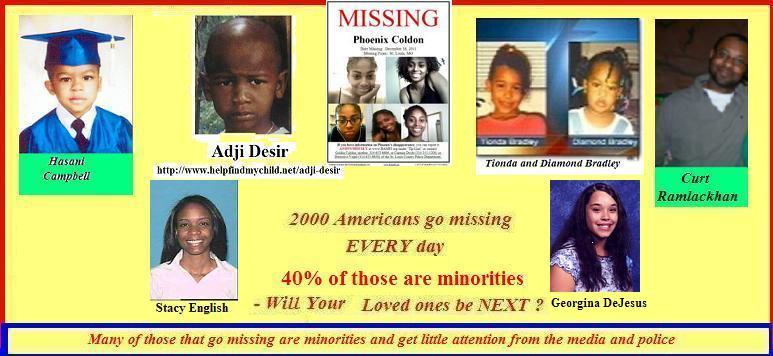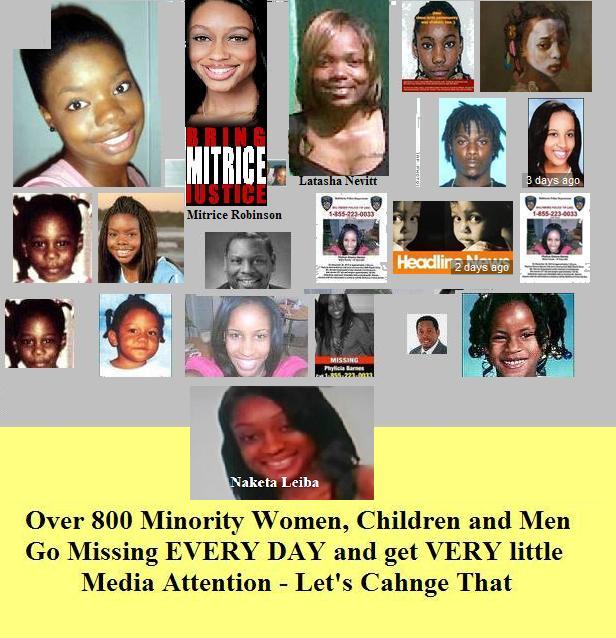 Click Here
To familiarize yourself
with our proposal and then Sign The Petition at the link
to adapt existing unmanned drone and satellite picture taking technology
to find ALL missing women children and men
and solve other crimes
In addition the technology we present would reduce ALL other crimes
Share this with EVERYONE on your social Media outlets and
Ask Celebs you follow on Twitter to RT ( ReTweet ) THE URL FOR THIS PAGE
( short url is http://mm.1sta.com )
Long URL is -- http://www.angelfire.com/cruci34/Missingminority.html
*********
With over 2000 Americans Reported missing EACH DAY,
I am determined to stop the need for NEW missing person notices in the future seen online and on Face Book
The time would be well spent, If those who post those notices would take a few extra minutes a day
helping educate others about the online petition
to get our elected officials to adapt existing real time military satellite picture taking and transmitting technology to Help find the Missing
and drastically reduce other crimes and find the missing safe, within MINUTES of the crime being reported
By adapting the technology for use by Law Enforcement the
Existing REAL TIME satellite picture taking and transmitting technology our military has developed and used for decades to protect our troops
WE Can save victims and spare tens of millions of families the pain of dealing with a missing loved one in the future
AND SAVE billions of dollars on the over 800,000 searches done for the missing EACH year
Until then we must continue to post the notices and Pages like this one
Please sign the petition seen on this page and ADD YOUR VOICE to the cause
********
We could reduce the numbers of these crime so the activity of POSTING
so many Missing Person Notices
ON FACE BOOK COULD BE DRASTICALLY REDUCED
if the technology and system presented here were in Place
I will post ANY missing person's case and info
in the "More Missing Persons Cases" section
found on our many web sites
see some HERE
ALL you need do is email me the info and URL of your cases page


CLICK HERE
FOOTEZE(at)hotmail.com
to send me your case or to get more info on our effort
*********
**********