*****
Please Follow Me on Face Book And Twitter
and share the word about this Effort
to Help Find Missing Persons
by clicking the Buttons below
First is the Face Book button - just tap on it

Now to follow me on Twitter

******
This page presents the Jose Caballero case
in Both Spanish and English
Esta página también presenta este Jose Daniel Caballero caso en Español
Contact the webmaster HERE
Contacte con el webmaster aquí


××××××
Haga clic en la imagen de abajo para ser
a la página de Missing
minoría de mujeres, hombres y niños
***
***
Endangered missing adult
JOSE DANIEL CABALLERO
Adultos en peligro de extinción que falta JOSE DANIEL CABALLERO

$1000 reward for info that leads to his safe return.
recompensa de $1000 por información que conduce a su retorno seguro.

BULLHEAD CITY
— The public's assistance is still being requested
in helping to locate 80-year-old
JOSE Daniel Caballero.
A photo of how he usually dresses is shown below.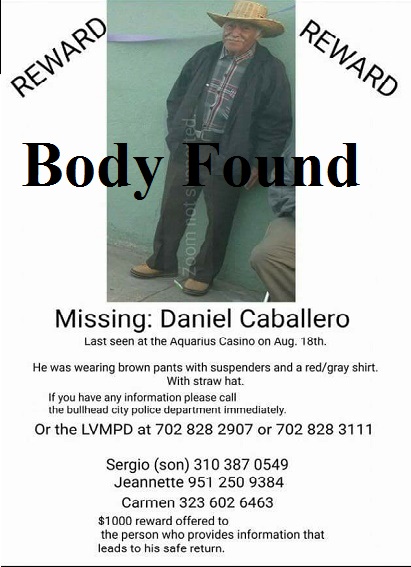 Caballero was seen Thursday Aug 25th about 6 p.m.
near the Aquarius Hotel and Casino
in the 1900 block of South Casino Drive, Laughlin
He was wearing a small straw type hat,
red and gray shirt and brown pants with suspenders.
Also of note is that when paying for something
he will pull out a handkerchief,
which is what he uses to keep his money, his family says.
Caballero may have been seen Saturday at
the Hibachi Buffet, 2280 Highway 95,
accompanied by a man dressed in
blue jeans, cowboy boots and hat, according to family members.
Caballero may be in severe emotional distress
and in need of medical assistance.
Anyone with information is urged
to contact LVMPD at 702-828-3111,
the Missing Persons Detail Vduring business hours
at 702-828-2709 or
by email at missing persons@lvmpd.com.
*******
Now the Spanish Info
En peligro de extinción que faltan adultos JOSE DANIEL CABALLERO
$ 1000 recompensa por información que conduzca a su regreso.
BULLHEAD CITY
— asistencia del público todavía se está solicitada para ayudar
a localizar 80-year-old JOSE Daniel Caballero.
Una foto de cómo viste generalmente se muestra a continuación.
caballero fue visto el jueves 25 de agosto de 18:00
cerca del acuario Hotel y Casino en el bloque de 1900 del sur Casino Drive, Laughlin que llevaba
un sombrero de paja pequeño del tipo , roja y gris
camisa y pantalón marrón con tirantes.
También es de destacar que cuando se paga por algo se saque un pañuelo,
que es lo que usa para guardar su dinero, su familia dice.
Caballero pudo haber visto el sábado en
el Buffet Hibachi, 2280 carretera 95,
acompañado por un hombre vestido de azul jeans, botas vaqueras y sombrero,
según miembros de la familia.
Caballero puede ser en señal de socorro emocional severa
y necesitan asistencia médica.
Cualquier persona con información
instó a ponerse en contacto con LVMPD en 702-828-3111,
la falta personas detallan horario de Vduring
en 702-828-2709 o
por correo electrónico a persons@lvmpd.com falta.
******
**********
I also added Jose Daniel Cabellero 's
case to the Group Prayer Page for the Missing
También he añadido de Jose Daniel Cabellero caso de
a la página de oración de grupo para el perdido
********
Sarah Lee Stern is Missing


Tap HERE for the details
and add Sarah Lee Stern to your prayers
*****
Michelle Parker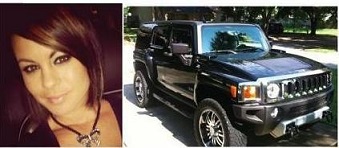 https://cruci34.angelfire.com/MichelleParker.html
Please take a look at the Jennifer Kesse case too



Just Tap Here
https://cruci34.angelfire.com/Jennifer_Kesse.html
****
****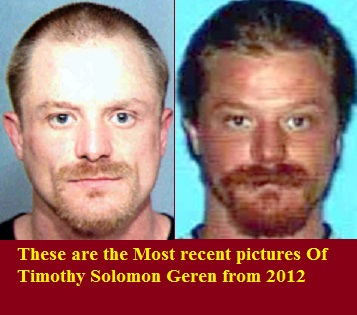 Help Find Timothy Geren
A.K.A. Timothy Geren Somolom or Solomen
+++++++++
**********
*****
Diana's case is also listed on the following links
For the Missing Minority Page I built
and My page for Missing Michelle Parker
she too might be with her loved ones
if she had the device
**********
Join Us
Pray for Missing Persons
Join Our Prayer Group
https://cruci34.angelfire.com/prayer_for_the_missing.html
++++++
Proteger a su ser querido con el Valrt
Protect Your Loved One with the Valrt
https://cruci34.angelfire.com/Find_The_Missing/v.alrt.html
~~~~~~
*****
You are the

visitor to ths page
since it was activated July 30th 2016
https://cruci34.angelfire.com/Find_The_Missing/JOSE_DANIEL_CABALLERO.html
Endangered missing adult JOSE DANIEL CABALLERO
Adultos en peligro de extinción que falta JOSE DANIEL CABALLERO