Would using Satellite picture taking technology help find missing persons and reduce other crimes ?
Read about that possibility on this page
*****
Please Follow Me on Face Book
and HELP share the word about this
Missing Person Case
by clicking the Follow Button below
*****
******
Here are More Missing Person Cases
This Page presents info on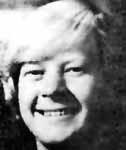 Tom Ray Starkel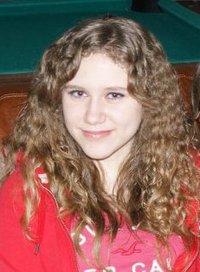 Madison Riley Gray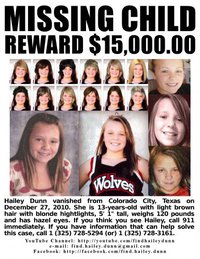 Hailey Dunn
Please see my website
which presents a solution the end these crimes and find abducted and missing children women and Men safely
SEEN HERE
*****************
Tom Ray Starkel ~ On the The Doe Network: Case File 2322DMCA
Missing since December 5, 1979 from Palmdale, Los Angeles County, California
Classification: Missing
Vital Statistics
Date Of Birth: July 15, 1960
Age at Time of Disappearance: 19 years old
Height and Weight at Time of Disappearance: 5'6"; 150 lbs.
Distinguishing Characteristics: White male. Blond hair; green eyes.
Clothing: Tan sweater and brown corduroy pants. Tennis shoes, approximate size: 7 1/2.
Jewelry: Gold watch.
Dentals: Not available
Circumstances of Disappearance Tom was last seen on December 5, 1979 in Palmdale, CA.
Tom was last seen leaving his girlfriends home at 22.00.
Evidence showed he arrived at his apartment that night.
He was driving a dark green Fire-bird with Nevada plates.
His car was recovered 2 weeks later with another driver.
The car was pulled over coming back into California from Nevada.
In the car the police found a handgun that had been recently fired under the drivers seat,
in the trunk of the car was Tom's jacket.
The pink slip to the car had been signed over by Tom to the driver.
The driver was arrested and held for about 2 weeks, but with no evidence to go on investigators had to release him.
If you have any information concerning this case, please contact:
Los Angeles County Sheriffs Department 323-526-5541
Agency Case Number:079124061
NCIC Number:M-648165993
Please refer to this number when contacting any agency with information regarding this case.
Source Information:CA DOJ Missing in California
Return to the Unexplained Disappearances' Index
Additonal sites:
http://www.facebook.com/profile.php?id=100000297485554#!/MissingTomR.Starkel
************
http://www.myspace.com/prayers4tomstarkel
******
http://peace4missing.ning.com/profile/hollyjean
***********************
https://www.findthemissing.org/cases/1165/19/
**************
Educate yourself about how we can stop these atrocities and bring home the missing
read then share -- Findthemissing.vze.com
We propose a solution to the scourge of Missing Men Women and Children
Sign our petition at
THIS LINK HERE
Then Please join the Face Book Group at 2findthemissing
*******~~*******<
Madison Riley Gray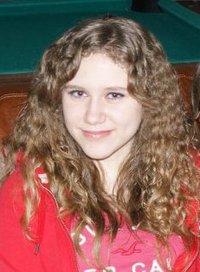 went missing from her home in the Azle area of Fort Worth, TX on Thursday - August 12th, 2010.
She is believed to be in a champagne gold, four door, Ford Taurus stolen by her 15 year old boyfriend, Rafeal Herarra.
She was last seen wearing a black Eminem t-shirt and black shorts.
We believe she could still be in the area. She frequently spends time in the Ridgmar area of Fort Worth.
PLEASE CALL THE FORT WORTH POLICE AT 817-335-4222 IF YOU HAVE ANY INFORMATION.
PLEASE CALL CHRIS WILKS AT 817-729-5259 WITH ANY INFORMATION.
PLEASE EMAIL whitneywilks@gmail.com WITH ANY INFORMATION on Hailey Dunn.
**********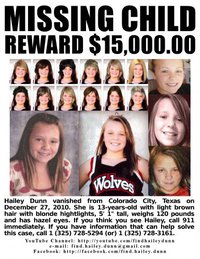 Hailey Dunn is Missing
from Colorado City Texas
Since Dec 27 2010
Click HERE
To See Hailey Dunn 's Face Book page
On March 21st Nancy Grace has been reporting a body has been found
in "Big Springs" Texas ( the name of the town is actually "Big Spring"
Big Spring is over 300 Miles from Big Springs
This is not the first gaff Mr Graces "crack" research team has made
send Nancy Grace a message from the media link ABOVE
asking why she ignores the SOLUTION presented here
To Find the missing......
Be Outraged and Let your voice be heard
*********
Contact the webmaster and head of the effort to find the missing



https://cruci34.angelfire.com/MorganHarrington.html

******

< href="https://cruci34.angelfire.com/DavidCisnerosmissing.html">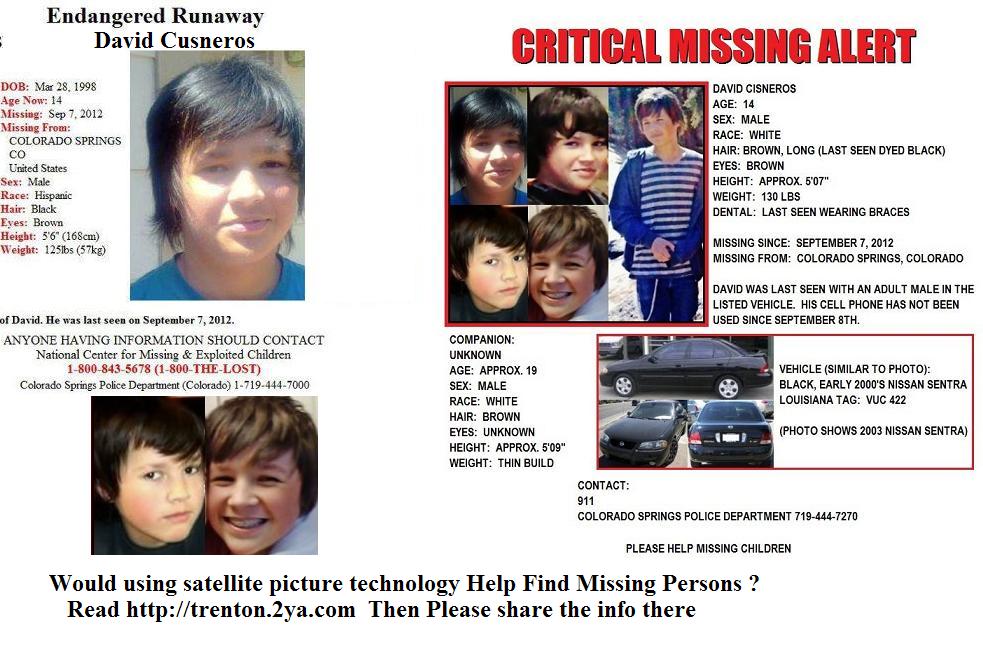 David Cisneros
Missing From Colorado Springs CO.
*******
Would using satellite picture technology help find MOST missing persons Like David Cisneros and Jessica Ridgeway
and solve other crimes ?
We believe it can Save Lives while sparing families the paid of dealing with a missing loved one
Please Read the info found on this page
David and Jessica Ridgeway a 10 year old girl from Westminster CO., Colorado are both from Colorado
Jessica Ridgeway 's Body was found on Oct 10th
by Westminster Colorao Police, an arrest has been made
But they are not revealing much info in order to protect the investigation
********