EVER said "My Feet Are KILLING Me"!!!
Any Soldier - Senior Citizen - Pregnant Mom to be -
- Working Woman - Postal Workers ~
Nurse - Beautician - Bank Teller - Teacher
You have found YOUR Free Foot Care Bonus Page
NO More Bending AND Stretching to take care of your feet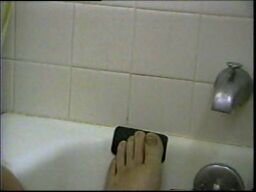 FootEze2 is designed to adhere to the rim of your tub
And provides most of the same benefits as the Foot-Eze-1
The 2 for 1 FootEze2 offer seen on this page is simple
You pay shipping of $4.49 and Get 2 Foot Eze 2
Thats 2 for each Foot Eze2 You Order
Limit 8 ( BUY 8 YOU GET 16 ) per order
@@@@
@@@@
My Ebay Auctions are
HERE
.


Email me here for any info on these products - the patent is available

GET up to 4 FREE for shipping as stated
---- Send some to a Soldier - Policamen - Firemen -
~ Policeman or whole Police Department ~ ~ Police-woman ~ Secretary ~ Fireman or Whole Fire Dept~ Waitress ~ Beautician
a Person with limited mobility OR any Active, Fit or Able Person who has EVER said "My Feet Are KILLING Me"!!!
These devices are Packaged by Adult Handicapped Workshops
Cleveland OH
By participating in this offer you are helping them too
This FREE Hands free
NO Bending ~ NO Stretching Foot Care Device will
$ave you $$$
WHILE $TRETCHING YOUR DOLLAR$



On Expen$ive Vi$it$ to Podiatrists AND Chiropractors
Get YOUR FREE for shipping FootEze2 - Get more than one and give them to everyone you know
They will love you for it
Email Me below with questions
.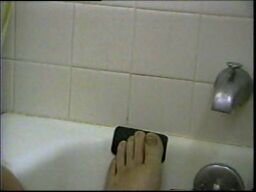 FootEze2 Seen HERE = IS ABSOLUTELY FREE

FootEze2 is designed to adhere to the rim of your tub
And provides most of the same benefits as the Foot-Eze-1
.


We have The "Vehicle" to help you On the Road To Better Health and Hygiene
Pregnant or Working Woman forever spring into good health.
Your FREE FootEze2 Adheres to rim of tub
* Eliminates the need for bending and stretching to:
* Remove odor causing dead skin & unsightly, painful calluses *
* Invigorate tired, achy, sore feet *
* Stimulate Circulation to Feet and Legs *
* Relax muscles and relieve tension and stress *
* Reduce Pain and the chance of Back Injury *
* Provide a feeling of wellness *
* Improve Job Performance ~ & ~ Attitude *
as it promotes new skin growth
No Bending ~ No Stretching

~ Floor of Shower ~
~ Wall at Foot of Tub ~
~ Tile on Floor of Rec Room or Office ~

* Can be used while *
* Bathing * Working * Relaxing *
OR as a hand held pumice stone
Neither the Foot_Eze-1 Nor The FootEze2 is recommended for Diabetics
.
For:
Anyone whoever uttered
"I'm stressed out"
OR
"My feet are killing me"
OR spend long periods of time on their feet
~ Get or Give Releif For FREE ~
.
The "Foot-Eze-1" and "FootEze2 " ~ Reflexology Foot Massagers, Health, Hygiene and Foot Care Systems came out of a spinal injury the inventor suffered
Foot-Eze are NOW found only on the WWW. at this time
but has been in the inventors digest, Podiatric Product Magazine and other publications
===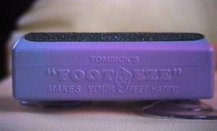 ~~~~"Foot-Eze-1" is NOT the FREE Item offered on this page
This page is presenting the Foot Eze 2
Invented By Bill Tomk - The "Foot - Eze" 'Guy'
Foot-Eze-1 as Been SEEN ON TV @ $19.99
PLUS $5.49 postage and handling
and in Podiatrist Products Magazine also in Inventors Digest for feet bad backs and OVER ALL overall health AND WELL BEING
Get & Give The Best Gift on the NET.
The Gifts Of Health and Feeling Better

.

Consider getting the Foot Eze 1 from our 2 for 1 FREE for shipping page

Foot Massager, Health & Hygiene Product


It comes with a replaceable and reusable abrasive pad ( the Foot Eze 2 )
for individual sanitary use and a free coupon for more.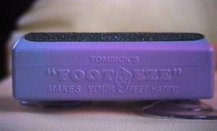 ~~~~Get the "Foot-Eze-1" seen HERE
with a 2 for 1 FREE for shipping offer
 
.

Again either The Foot-Eze-1 or Foot Eze 2 can provide the BEST vehicle on the road to an over all feeling of well-being



.
 

.

To reach the owner of this page Include "Foot-eze - 622" in subject line and follow instructions to send Email from:



HERE
IF You do not use a valid email address my program Just kicks it out into Cybersapce for eternity ~~~ It does NOT EVEN reach me
End of Page
30
End of Page
30
End of Page
30
Ends of Page
30
End of this Page
30