Other suggested ways to Find or keep track of your loved ones
Some pundits suggest placing micro chips in every person, that will not work
the chip is not used to track people
Its used to identify them after they are found
as is the case with animals having chips implanted
and These monsters will just use a metal scanner find the chip and cut it out
making ID'ing any bodies found just as difficult as if they had no Chip
Relying on GPS trakers to see where anyone is at any given time
these units are suggested to be put into back packs or built into shoes
This is ALSO an idea that is flawed. It assumes that the perps will NOT FIND it and render the transponder useless
There are scanners availble to ANY one TO DETECT SIGNALs from GPS devices and the perps will use them
to detect the units, remove them or disable them
Making sex offenders and other criminals wear tracking devices
has not worked either just reference the Amber Dubois / Chelsea King cases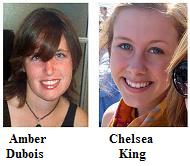 their murderer, John Gardner wore a GPS for years and during that time violated his parole over 100 times
ANY ONE of those violations should have put him back in jail
had they monitored him correctly those two girls would be alive today
It takes far too much man power to monitor these devices and the millions who would be required to wear them
to be effective
After reading this page get involved and DO SOMETHING --- AS outlined on this page
from the links provided
***&***

HOW MUCH WOULD THIS COST AND
What can this save beside the Victims ?
I repeat this INFO:
These satellites are in place right now
and soon after our troops are withdrawn from Iraq And Afghanistan
they are scheduled to be phased out
the ones in place NOW could be repositioned over the U.S. for a VERY SMALL fraction of the cost
to build and launch new ones
To build and launch new satellites would be a minimum of 50 Billion Dollars
BUT Lately our military is mostly depending on drones for their surveillance
and the satellites are used very seldom
Most searches last less than 12 hours BUT IF $1000 PER HOUR IS SPENT ON EACH SEARCH ( and that is a very, VERY LOW FIGURE for the
cost per hour of the average search USING 16 officers, and basic equipment and expenditures )
The average search would cost $12,000.00
based on the average pay for a starting, new police officer is $24.00 per
hour up to $40.00 for supervisory officers
That is for a search which DOES NOT INCLUDE ANY SOPHISTICATED EQUIPMENT
Thus a combined minimum of $ 9.6 Billion is spent on searches for the over 800,000 Americans ( over 2000 per day )
who are reported Missing each year
Implementing the proposed system would NOT only save a great deal of that money output
BUT also free officers to address other problems such as cold cases thus using the manpower to its best advantage
by monitoring the system and
dispatching response units to the crime scenes WITHIN MINUTES of receiving the call
And guiding the responders to where the perps are IN REAL TIME. The 9.6 Billion is conservatively estimated to be the amount spent
EACH YEAR on JUST BASIC police searches with NO dogs, helicopters, divers, side scanning sonar etc
Use of that equipment adds considerably to the over all cost of searches, therefore the output for searches would be cut to almost nothing
and those savings would help Pay for the system upkeep
AND that does NOT include the savings realized on investigating and responding to other crimes such as Car Thefts, Bank Robberies Hit and Run accidents = ANY Crime
It would also reduce the numbers and length of court cases and the costs associated with those
with the Perps caught IN Pictures
the criminals would have no defense and would almost certainly plead guilty IN MOST CASES
They would also think before committing their crime
and as stated above, this proposed method could also be used to protect our borders more cost efficiently and safer for the agents
I repeat, A few police officers, Border Patrol Agents or Coast Guard could
do the work of
Hundreds of officers and agents in the field
***&***
Once Again: The technology exists now as shown on this page but President Obama needs to lead the way
for EVERY American's protection and benefit
***&***
Again I repeat: My proposal is:
To get President Obama to instruct NASA and its affiliates to adapt the
systems which are already being used by our military
to share with law enforcement and police
real time and stored satellite videos and pictures
of the crimes scenes
WITHIN MINUTES of ANY crime
that includes ANY CRIME SCENE where an abduction of a child, woman or man took place
OR ANY crime was committed including Hit and Run accidents, Bank Robberies, Car Thefts, Murders
The police would then JUST need to access the system and view the pics and vids then track the perps ( backward or forward )
and ARREST them and rescue the victims or solve the crime being investigated
Again WITHIN Minutes
If a body was found the archived / stored photos could be used
to see who was in the area of that scene over a period of time
and see who dumped the body - follow the suspect
to where he went and possibly where he is right NOW
***&***
While nothing is fool proof my proposed solution offers multi functional methods to find the
abducted, missing, walkways, runaways and solve other crimes Within Minutes
as disclosed on this page
After digesting what this page offers, I pray YOU will want to get involved.
It is my hope you will take a few minutes to send some of the pre composed letters from
the links found on this page to Elected officials, Celebrities, Social Activists, TV shows
and ask that they get onboard too !!!!
***&***
ADD your voice to Our Effort
Sign this and the letter will be sent to The President and other elected officials and media outlets

***&***
Please Join Our Face Book Group = 2findthemissing
and be kept up to date on the progress we are making
And be notified of scheduled Interviews
***&***
And While you are on Face Book just cut this URL - ( http://findthemissing.vze.com )
and paste it into the News Feed Text Box - Face Book will automatically populate the page
and then just Click "Share"If your willing and able to assist ANY missing Person CASE ~
please do so to further that effort
This page offers an opportunity to become part of my specific solution
Don't Cry "WE MUST DO SOMETHING" and then do nothing when presented with OUR potential solution
as some TV hosts have done
One keeps saying If it will save lives we should put a camera on Every corner and street in Amerca
And yet this same host has refused to resond to my attempts and requests that she tell he viewers about
the existing technology and educate the masses so they can decide if it something they would accept
***&***
I am doing something
To try to help I present links to The Media from which you can send messages
and ask them to reconsider and
give this some air time and Allow their viewers to decide to become involved
It will be up to EVERYONE who really wants this
to take a few minutes to become active in our effort.
If enough people contact them they can NOT ignore this......Remember the victims and their families have no more time to waste.
CLICK on 'Take Action" directly below to send A letter / petition to The President and many other
ELECTED officials telling them to Get This technology Up and running
***&***
I am fully aware this page is a bit long and not generally what you find on the net
I am just an idea man and not a professional webmaster
I need to get as much info out as possible
*~&~*
Notify you favorite Politician and tell him to get involved and become the standard bearer for this effort
and let them know by doing so he/she would endear themselves to EVERY VOTER and assure a win in ANY election they chose to enter
So Please cut paste and edit the letter from the link directly below
to suit to whom you are sending it to Notifying them to do something
The letter below was composed for The president
you can cut and edit it to suit anyone, Celebrity Social Activist AND Politician
***&***
To contact President Obama, Mrs Obama or their daughters:

Here are the White Houses Contact Pages OR ADDRESS to send a message
look for contact us in the upper right