This page Presents the Printable Version OF St Jude Novena Prayer

This page is continued from The St Jude Novena Prayer Main Page

*************


Send Your Request and Thank You to St Jude HERE
Contact me with your prayer request
and you will be including in all our collective prayers
Here is

I will post it with the many others I receive DAILY
Read some of the other requests which have been submitted to me
many of which have been answered with Miracles
The St Jude Novena Prayer Request Pages are seen HERE
And

Please don't forget to have me post your Thank You TO St Jude after your needs are met

Many of our members who have had their prayers answered
have attested to the fact: -- our group prayer works on
This Thank You Page Link

Those who have visited this page are aware it cost money to put a page on the internet and MUCH TIME to keep it updated
and have asked me if they could send me money to help keep this page online

I will not refuse

You can send any amount you want to the Pay Pal LINK Below
Just fill in the form
If you also are asking your request or Thank You be added
It will be listed at the top of the lists as I get them

*********

OR

***********

Help keep this page on the internet by visiting our sponsors

We get 5% of any revenues this site generates
and that money is used to maintain this site

The novena prayer
is to be said a minimum of 9 times per day until your prayer is answered:
After your prayer is answered it is requested to post a Thank You TO ST JUDE
in a public media
I will post your message here to fulfill that requirement
You can send prayer request and after your prayers are answered the Tahnk You to St Jude

to this Email Link HERE



prayerpage@yahoo.com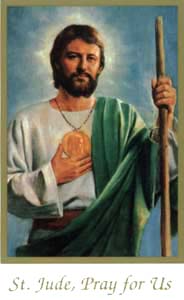 Read some of those Thank You Messages at the link seen below
Now the Printable Version Of the Prayer
***************
St Jude Thadeus Worker of Miracles and Help of Hopeless causes, and My savior Jesus Christ
I ask you to grant me ( say your request HERE AND ADD "and grant the requests
of ALL who are seeking a spiritual intervention especially Grant All those seeking missing loved ones
now and in the future that they are found and protect all soldiers everywhere they are in danger)
I promise I will forever be grateful to you
and assist in helping others find you.
Hail Mary, full of grace, the Lord is with thee; blessed art thou among women,
and blessed is the fruit of thy womb, Jesus.
Holy Mary, Mother of God, pray for us sinners, now and at the hour of our death.
Amen
9 times per day Until your prayers are answered
*********
From: Rolandia M
Date: Sun Jan 22 201206:05:23
Subject: Re: The Prayer Page
To: footeze@hotmail.com


I do NOT live in the U.S. but love the sea
A close friend of mine was very, very ill and devoutly Catholic.
She collects religious and nautical items .

I always find amazing curios.
I promised her something extra special and I came across
the Crucifix Fish Bone with the Image of Jesus on the Cross
The legend of this icon tells it brings God's Blessings and protection to ALL who posses one
I gave her one and asked you to pray for her recovery
the Prayers were answered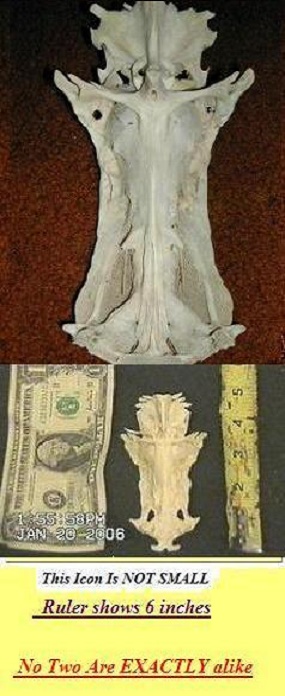 I found the Image Of Jesus on the web
HERE
http://gife.2ya.com
It seemed like an interesting item and it was very appropriate timing
I would like to thank you and ALL the others WHO PRAYED WITH ME for her recovery
And I will continue to pray as requested and ask St Jude to grant Everyones prayers
and protect soldiers, and find the missing
She loves the Crucifix Fish and has it displayed in her sitting room
Please add a link to it on your page
I give you permission to include this email
Rolandia
*********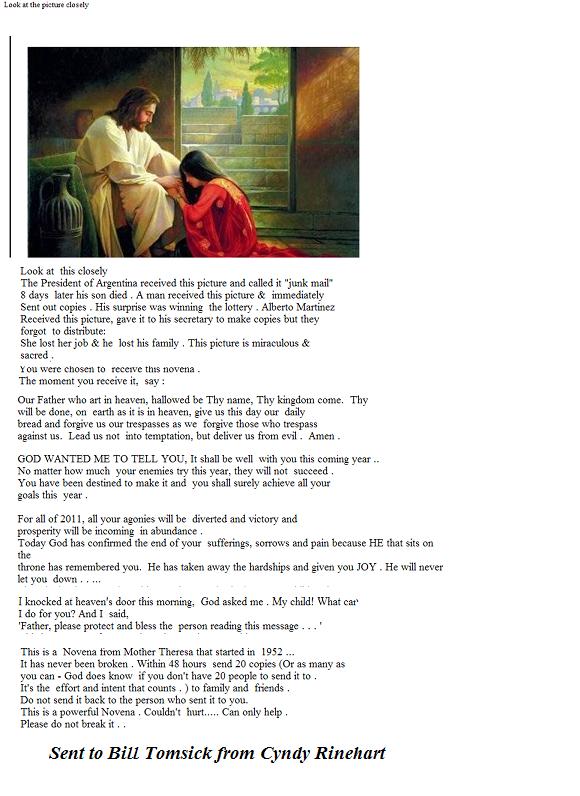 *********

SHARE THIS URL On Face Book and Tweet it too
http://www.angelfire.com/cruci34/prntprayer.html

*********
AND PLEASE get involved in helping others to show more thanks
If you have received the answer to your prayers
You should consider helping others
My Main Effort to pay back for favors granted to me is found At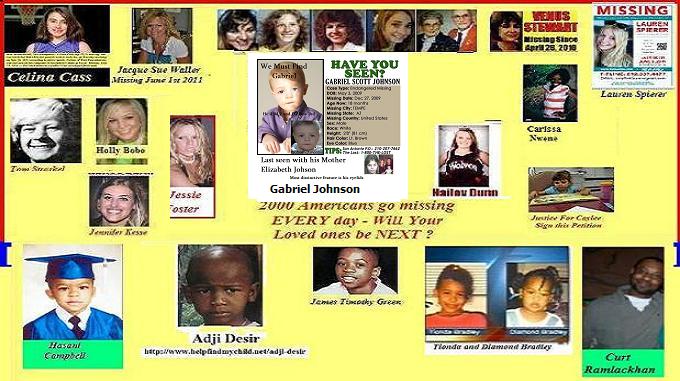 the 'Find the Missing" web site HERE
Get involved and Pay Back for your Blessings
*********
Here is an URGENY prayer requests
from Thousands of concerned cyber citizens on Face book,
Please Jesus and St Jude patron of hopeless causes and worker of Miracles
we pray that Amy Patterson, Susan Powell, Holly Bobo, AND ALL THE THOUSANDS OF missing children women and men are found,
they need to be returned to their families
Watch Nancy Grace for updates
AND PLEASE let Ms Grace know she is mentioned here
AND pray for her too to START to educate the public about the effort to
Find Missing children women and men seen HERE
********
F
*********
Return to The St Jude Novena Prayer Main Page
*********
I NEVER asked for money and still DON'T
BUT
Please help Keep this page on the internet By Using these Sponsors Services and products
If you need your computer fixed
Or want to learn the tricks to keep your PC running at top efficiency



Use this email link for the computer repair services ONLY
Alliance Computer Services is for you
You MUST EMAILS US AND Mention you saw the ad here
and were referred by this page TO GET YOUR discounts
YOU get 50% OFF YOUR FIRST service
and then the LOWEST PRICED Computer repairs YOU WILL find
we can do remote repairs anywhere in the World.
ALL work is 100% Guaranteed
PayPal and credit cards accepted
*********
Return to The St Jude Novena Prayer Main Page
http://pray.1sta.com
*********
*********
*********
Here is a plea from a very good friend of one this pages sponsors
Joe Loforte
Cape Coral FL:
To all my friends: My mother was recently diagnosed with many TYPES OF cancer and give 6 months to live
Please pray for her and our family
for those of my friends who are going through some issues right now--
Let's start an intention avalanche.
We all need positive intentions right now. If I don't see your name, I'll understand.
May I ask my "FB Family," wherever you might be, to kindly copy, paste,
and share this status for one hour to give a moment of support to all
those who have family problems; health struggles, job issues, worries of any kind and just need to know that someone cares.
Do it for all of us for nobody is immune.
I hope to see this on the walls of all my friends just for moral support.
I know some will!! I did it for a friend and you can too. Share some faith,
love, and spiritual healing for all in need.
********
From a Fiverr Donator
Hi My prayer request is this:
I desperately want to continue on in my Third and final year of study but unable to do so
because of a failed resit paper.
I pray that the exam board, my tutors, coordinators open their hearts to me and reconsider my case favorably
and allow me to proceed to Level 3. I hope you can help me with this and pray for me..
God willing. Thank you.
**********
'
Printable Version OF St Jude Novena Prayer
Do you need a miracle help with problems say this novena prayer 9 times for 9 days
and then publish a thank you after your prayers are answered ALL I NEED is a miracle, is there a miracle prayer that works